Thai Kitchen - Thai Restaurant in Shaftesbury, Dorset
Wincombe Lane, Shaftesbury SP7 8PJ | 01747 855813
---
Your Reviews
---
ORDERED A LUNCH AND ITS SAFE TO SAY IT WAS FANTASTIC. MR O'NEILL , I CHALLENGE YOU TO A DUEL IF YOU EVER SAY A BAD WORD ABOUT THIS ESTABLISHMENT AGAIN .
JUST TO DISPROVE THE HATER (DAVID ONEILL) I CALLED NUMEROUS TIMES YESTERDAY . NOT TO ORDER ANY FOOD JUST TO DISPELL HIS WILD ACCUSATIONS THAT THEY DO NT ANSWER THE PHONE. ALL OF MY 29 CALLS WHERE ANSWERED PROMPTLY , SO DAVID ONEILL STOP YOUR SLANDERING OF THIS WONDERFUL RESTAURANT . THEY DID GET A BIT ANNOYED AFTER THE THIRD CALL AS I WAS NOT ORDERING ANY FOOD , AND WAS POTENTIALLY STOPPING THEM GETTING ORDERS
FANTASTIC SERVICE , DISAGREE WITH DAVID ONEILL'S REVIEW DATED 26/09/20. PHONED MULTIPLE TIMES AND THEY ANSWERED EVERYTIME, FAULTLESS TELEPHONE MANNER . I MUST THINK THAT DAVID CALLED WHEN THEY WERE CLOSED! WHAT A CLUTZ !
Absolutely awful service!! Need to sort out your telephone service!! 12 times called and no answer?
I had the most amazing sandwich from here everyday for a year while I was at the college An I have never found anything that even comes close An I can't find it on the menu but if you go in there nothin will ever compare the best thing I have ever eaten
This place is amazing, I've been going here for several years & no other Thai restaurant can compare, the food is amazing & the staff are very friendly. Whether eating in or taking away you can't go wrong.
This place is absolutely amazing! Every take away meal I have, at least once a month, I am never disappointed! The restaurant food is just as amazing...I would totally recommend to anyone. In fact, whenever we have friends or family visit from outside Shaftesbury we always get a take away. 5* in my opinion :-)
The food is incredible and I could eat here every day given the chance! The staff are very friendly and although the restaurant area is very 'simple', the service and presentation is spot on.
---
Please use the form below to leave your review:
---
Thai-Kitchen Reviews
---
Our Food Standards Agency Rating: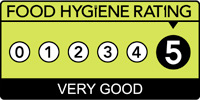 Please click for further details.